SpeedTracer Stage I -- Free to all AutoEnginuity ScanTool purchasers!

SpeedTracer software comes free & is included on your AutoEnginuity ScanTool CD.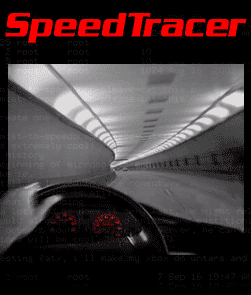 SpeedTracer is a performance analysis software for your PC or PDA. Are you curious if that new part worked? Is your vehicle performing to its fullest capabilities? With SpeedTracer, we can help you answer those questions. Save hundreds of dollars running dynos on your vehicles. What's more, you can run the performance analysis at YOUR convenience--not regular shop hours.
What it can do:
0-60ft time
0-60 MPH
1/8 mile time
1/8 mile speed
1/4 mile time
1/4 mile speed
G Forces
SAE Horsepower and Torque vs RPM graphing
Speed vs Time graphing (Acceleration and Deceleration)
Compute Gear Ratio
Compute Cd or CoastDown times
Compute Volumetric Efficiency
Compute MPG (Current and Running Average)
Monitor Boost Pressure
SpeedTracer doesn't use accelerometers, so road conditions will not affect your results. It uses the "rolling" chassis dynamometer method to measure your vehicle's horsepower and torque. You won't be required to start your dynamometer testing from a complete stand-still. Now you can perform your analysis in the gear that is best for your vehicle--not the testing equipment.
How accurate is the "rolling" chassis dynamometer method? Of the two methods (crankshaft or chassis) the "rolling" chassis method produces the most usable results. This method will show you what the net horsepower and torque are at the driven wheels; after the frictional losses from the clutch/torque converter, the driveshaft, half-shafts, the differential, air resistance, and drag. We have tested and proven our methods accuracy through several tests against very expensive roller-based dynamometer equipment.
What sets our performance analysis software apart is that the results are corrected for environmental variables using the SAE J1349 standard and built in vehicle profiles.
Using the current environmental variables (humidity, elevation, and temperature) we can correct the results to insure the most accurate and consistent results. Correcting for environmental variables is not enough in the case of force induction vehicles. The SAE formulas are made for normally aspirated vehicles. We go one step further and correct for forced induction as well. Without these corrections your torque and horsepower readings would be inaccurate from day to day and region to region.
SpeedTracer makes inputting your vehicle profile easy because it has most vehicle profiles built in. If your vehicle's profile is listed, simply select it and begin your performance analysis. In case you have special modifications to your vehicle, you can change your vehicle profile to take those into account too. You can also create and modify vehicle profiles to suit your needs.
How does it work: 1) set the environmental variables so the proper corrections can be made; 2) select your vehicle profile; and, 3) run your vehicle to its full potential and see your results. It's that easy.