Refundable $300 Core Charge appears as an 'extra shipping' charge.*
Fully Remanufactured. Ships to USA only.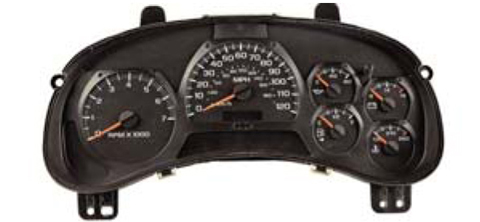 Applications:
2002 - 2004 GM, Chevrolet Trailblazer Only
Without Information Center
With Red Needles
OE Number: 15115883
No Vehicle Downtime:
Special Order Ships same day - fully programmed with Mileage & VIN (Must call prior to 2:30 PM ET)
Overnight and 2nd Day Air Available
Requirements:
You will be asked to provide your VIN# and Mileasge during the checkout process
Features:
All new stepper motors
Upgraded OE Designs
All new backlight bulbs
Ships fully programmed with mileage & VIN specific options
* $300 Core Charge Required. This will appear as an 'extra shipping' charge at checkout.
Core Return Handled by Pre-Paid UPS Call Tag
Completed Odometer Statement must be included with return
Core must be returned in "Rebuildable" condition to receive credit
Core refund is normally received within 10 - 20 days
50% restock fee applies for unused returned units